There are a lot of things to check while picking an External Hard Drive apart from good looks because the data you're going to store in it might be precious. So that's why we thought of creating this outstanding Best External Hard Drives 2019 Buyer's Guide.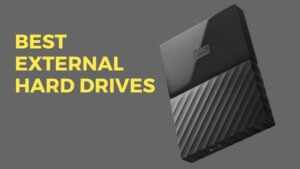 People tend to confuse and make wrong choices when picking an external hard drive for various needs.
As said earlier, good looks don't determine the efficiency of a particular hard drive. Many factors determine the best.
Like USB Interface technology, Rotation Speed of the hard drive, Storage Capacity, Hard Drive Technology and Size of the Hard Drive.
Best External Hard Drives 2019
Not every Hard Drive that made our list fits everyone needs. Some can be expensive, and some can be affordable. Some can be portable, and some cannot and needs an additional power supply so pick according to your needs.
So Here's the final list of the Top External Hard Drives of 2019
Product
Speed
Ports
Weight
Samsung T5
Portable SSD
504 MB/s Read
401 MB/s Write
USB 3.1 Gen 2 Type C
0.1 lb
LaCie Rugged
500+ MB/s
Read & Write
Thunderbolt +
USB Type C
0.9 lb
WD My Book
174 MB/s Read
173 MB/s Write
USB 3.0
3 lbs
Seagate Backup Plus Hub
165 MB/s Read
156 MB/s Write
USB 3.0
2.34 lbs
CalDigit Tuff
130 MB/s Read/Write
USB 3.0
0.6 lb
Buffalo MiniStation Extreme NFC
110 MB/s Read/Write
USB 3.0
0.6 lb
Seagate Backup Plus
124 MB/s Read
121 MB/s Write
USB 3.0
0.3 lb
LaCie Porsche Design
150 MB/s Read/Write
USB Type C
0.7 lb
WD Black
My Passport
125 MB/s Read
113 MB/s Write
USB 3.0
0.53 lb
WD Elements
116 MB/s Read
116 MB/s Write
USB 3.0
0.3 lb
Samsung T5 Portable SSD – Best Ultra Portable External SSD
T5 was a huge success for Samsung. Currently, Samsung is the leading brand in the realm of SSD business
Either Internal or External, Samsung's SSD's are the top-notch performance beasts out there.
The major selling point for them is they're not overpriced for the performance offered by them.
Unlike other SSD's Samsung's gives a better dollar to performance value.
Coming to the product – Samsung T5 which got recently updated with a newer controller and other internals is somewhat slower concerning theoretical throughputs.
But this one offers better 4K IOPS which is a good thing, and we'll get more about this in the later part.
T5 is the best ultraportable external SSD out there on the market. Hands Down! Weighing at around 0.1 pounds, there's no alternate found to tackle this.
Features & Performance
Samsung T5 Portable SSD offers consistent speeds both in read and write department.
Peak performance of the Drive is 540 MB/s, but in our testing, we're able to see 504 MB/s Read, 401 MB/s Write

All Metal design of the drive makes you forget about going for rugged alternatives that offer damage safety

I would say it's not just portable because it's ultraportable. Samsung T5 Portable SSD fits in the middle of your palm. It's not as long as an M.2 SSD and not as large as a traditional SSD.

Weighing at 0.1 pounds the drives footprint looks a U.2 SSD Drive enclosed in an ultra-strong case.

Comes with a USB Type C to C and USB Type C to A cables and offers an optional 

AES 256-bit hardware encryption

3-year warranty period is a major plus point for a super fast SSD at an affordable price.
As an SSD consists of no moving parts, you no need to worry about the drive getting hot after long use. It'll get hot but not as much compared to a traditional external hard drive and also consumes less power while delivering peak performances.
Pros
Ultra Portable – Smallest External Hard Drive with an SSD.
USB 3.1 Gen 2 Type C – Latest Standard for peak performances at 540 MB/s.
Price is almost similar to an internal SSD despite being an portable drive.
Cons
USB Type C is not adapted to all devices as of now.
Sequential Transfer Speeds are a little bit slower than the previous model. Not much of a con but if you're using the drive to only dump large data then this can be one.
Samsung T5 Portable Hard Drive comes in various sizes starting from 250GB up to 1TB. I would suggest picking a minimum of 500 GB drive because having less free storage on an SSD drive might slow the transfer speeds. It's called as SSD Provisioning, and it's a whole new topic for another day.
LaCie Rugged – Best Rugged Hard Drive
LaCie's Rugged made top #2 on our list due to its wide variety connectivity offerings. This drive offers speed, protection and the best compatibility
It might not be as fast as the Samsung's T5 but it's still fast and the customer can pick whatever model he prefers for his needs.
But with greater protection and compatibility comes greater bulkiness.
Yes, this drive weighs a lot compared to #1 nearing to a pound.
Features & Performance
LaCie Rugged Thunderbolt USB-C Portable Hard Drive can offer speeds up to 500 MB/s with it's SSD Option and USB Type C port model
Not only it's Drop, Dust and Water Resistant but it's also Crush resistant. Maybe that's why it's named as Rugged
Supports Thunderbolt to take advantage of that USB Type C Gen 2 offering and can offer speeds upto 500 MB/s on SSD model
Offers Awesome compatibility, You can choose either USB 3.0, Type C and Type C with Thunderbolt while buying one
Best-in-class 3 Year Warranty and lives upto the claims of the brand about its ruggedness
Pros
Has SSD Offering with peak performances of about 500 MB/s
Water+Dust+Crush Resistant with brand support
Higher Capacities are available to buy up to 5 TB
Cons
Weighs nearly 0.9 pounds
Not Good Appealing
If you choose the HDD model in this variant, your speed might be limited to 130 MB/s only.
WD My Book – Best Desktop External Hard Drive
WD My Book is the first and best Desktop External Hard Drive that made it to our list of 10 Best External Hard Drives
Desktop external drives are not portable, and their size is comparatively larger to the portable drives
But this size of theirs gives an edge for them to perform at greater performances at cheaper prices offering larger storage.
Don't plan on taking this Hard Drive with you. There's a reason why it is called Desktop External Hard Drive. To accommodate those 1 or 2 3.5″ bulkier drives the whole device packs some weight
To be precise this drive weighs 3 pounds and needs external power to make it work so not so portable after all
Features & Performance
WD My Book Desktop Hard Drive is not portable for sure but the 3.5″ drives are cheaper and faster
In our tests, we got around 174 MB/s Read, 173 MB/s Write with this Hard Drive.
It offers Dual Drive option, Where you can get an additional bay to mount extra 3.5″ drive for future upgrades saving the cost of buying an extra hard drive
Despite being popular to offer 8 TB out of the box, You can get it up to 20 TB directly from the store
Pros
Transfer Speeds are considerably high compared to the competitors
Has Dual Drive option. An extra HDD bay can be used to expand the storage of the drive in the long run.
Cons
A little bit expensive than competitors
Can't charge other devices via USB like some Desktop External Hard Drives.
This drive can work as an auto backup machine using WD Backup Software if you're on Windows. If you're on macOS, then it can be configured with Time Machine. The only downside for this External Hard Drive is that it doesn't Power Deliver to external devices connected via USB
This is not a considerable drawback and having this function might also affect transfer speeds. But people who would love to have this feature might get disappointed.
Seagate Backup Plus Hub – Cheapest Desktop External Hard Drive
In our list of top 10 External Hard Drives, Seagate Backup Plus Hub is one of the cheapest offering with high transfer speeds.
It doesn't look as elegant as the . But, Hey! who cares. It's going to be sitting around in the home
Seagate over thought about this drive and made the Power Deliver to external devices connected possibly making this ideal at an affordable price point
Like WD My Book, this one also packs considerable weight to it –  2.34 lbs, Definitely not for portable usage
You can simultaneously charge other device and transfer at the same time using the 2 USB ports on the drive
Features & Performance
This drive cost less by 20$ than Variant with decent transfer speeds.
In our tests the drive speeds are as follows: 

165 MB/s Read, 156 MB/s Write

Connects via USB 3.0 port and the Seagate Dashboard software can help backup all the data to the drive easy when mounted.
2-Year or Variable Warranty on the device
Pros
Cheapest High Storage Desktop External Drive
2 USB 3.0 Ports. One can be used to charge other devices
Cons
Only 2 Year Warranty + No second Hard Drive bay
Transfer speeds are less and No higher capacity variants available directly from the manufacturer
8 TB might look like it's more than enough. But people who tend to buy Desktop External Hard Drive sure has lots of data needs and believe me 8TB won't cut it
In the long run and in the era 4K and emerging 8K. 8TB is not going to be enough. If you want to future proof and alongside get a Desktop External Drive then go for 
CalDigit Tuff USB-C Portable Rugged Hard Drive
CalDigit Tuff is similar to when considering protection offered to the precious data drive
but it doesn't come available with an SSD out of the box unlike 
The drive comes bundled with a USB Type C and USB Type A cable for backward compatibility. So you no need to worry about your host worrying about not having a Type C port
Features & Performance
The drive comes with a Type-C (Gen. 2) Interface Speeds Up To 10Gb/s, Compatible with USB & Thunderbolt 3
It's IP57 Certified i.e., Water+Dust+Shock protected. You can immerse the drive in water up to 3.5ft for 30 mins.
Speeds are not that great. In our tests, the Drive's peak performance is only around 130 MB/s Read & Write
This particular drive is a 7200 RPM one unlike other HDD having 5400 RPM. But it still lacks SSD option.
Pros
Rugged Drive: Water, Dust, and shock resistant with IP57 certification
7200 RPM HDD for better 4K IOPS, Refer to our Buyer's Guide at the end part for more details.
Thunderbolt 3 Support up to 10 Gb/s
Cons
No SSD and Higher Capacities available.
Overpriced for the current storage option.
Poor implementation of ports. For an HDD there's no need for Thunderbolt support up to 10 Gb/s
You're halfway through in our list of 10 Best External Hard Drives of 2019, If you want to navigate to any section of the article quickly, you can do from here:
Buffalo MiniStation Extreme NFC – Best Secure External Hard Drive
Buffalo MiniSattion Extreme NFC external hard drive is not only secure and can be authenticated using an NFC secure card
But also it's rugged and has IP3X and IP5X certified standards to protect the drive from Dust, Water, and shocks.
The downside is that its ruggedness is not as perfect as the above-discussed drives.
If you're here to pick the drive basing on its protection standards. Then it's better to pick above models than this.
Features & Performance
Military spec shock protection including IPX3 standard water resistance & IP5X standard dust resistance to ensure data is safe against the elements
110 MB/s Read/Write Transfers speeds over USB 3.0 port
NFC Smart Card is included to authenticate the drive when needed which safeguards the precious data inside the drive
256-AES Hardware Encryption capability works awesome with the Smart Card
Automatic Backup's using the buffalo's proprietary software and has support for macOS's Time Machine
3-Year Warranty and support for the Hard Drive to recover data if anything happens
Pros
NFC Smart Card Support is a great addition to having 256bit AES H/W encryption
As it is aimed at security as priority, Being rugged gives this drive an edge over competition
Cons
Not detachable USB 3.0 cable might break if usuage makes any wear and tear down the road
Considering the price point the drives throughputs are not impressive
As mentioned earlier, this drive is good for people who wants to keep their data very confidential. The NFC Smart Card is the best way. The drive weights 0.6 Pounds not including the smart card.
But you're planning to buy this looking at its ruggedness features and their certifications. Then Don't, The drives mentioned above are good at this when compared Buffalo MiniStation Extreme
Seagate Backup Plus – Cheapest High Storage Portable Hard Drive
Seagate is one of the oldest storage makers. This drive Seagate Backup plus is the cheapest High Storage External Hard Drive
In 2019 updated list of Best External Hard Drives, 2 drives from Seagate made into the list and one being the Cheapest Desktop Hard Drive.
You can check here: Seagate Backup Plus Hub – Cheapest Desktop External Hard Drive
This drive offers up to 5 TB of storage out of the box and doesn't put a hole in your pockets.
Features & Performance
Seagate Backup Plus ranges from 1TB and going up to 5 TB at the cheapest price available for a 5TB hard drive which is portable.
In our test the drive transfer speeds are as follows: 

124 MB/s Read, 121 MB/s Write

2-Year Limited or variable warranty
USB 3.0 which is backward compatible with USB 2.0 like all other Hard Drives
Weight at 0.3 lb with larger footprint which helps in better heat dispation
Pros
For just 3x the price of 1TB you can get a 5TB option with this drive
Speeds are considerable decent for a 5400 RPM drive
Cons
2 Year Warranty by Seagate is a bummer
Being cheap puts this drive as one of the product that made to the list of Best External Hard Drives. I would suggest to pick at least a 4 TB model
Because 4 TB is just 2X the price of 1 TB, whereas 5 TB is 3X the price of 1 TB but still it is the cheapest 5 TB Portable Hard Drive
LaCie Porsche Design – Best Premium External Hard Drive
Same as Seagate Backup Plus, LaCie Porsche Design Hard Drive offers storage variants ranging from 1 TB up to 5 TB
It's the best Premium External hard drive as of now. Premium in the sense the looks of the drive and definitely not the cost.
It costs slightly more when compared to the Seagate's but offers better throughputs
Features & Performance
LaCie Porsche Design Portable Hard Drive comes equipped with a USB Type C connector for modern I/O
In our tests, the theoretical transfer speeds were around 150 MB/s in both Read and Write operations.
USB Type C cable helped in the gain of speeds over USB 3.0 hard drives. It also comes with a USB 3.0 Cable for better compatibility
Highest Storage options available and not too pricey for the premium looks
Comes with 2 Year Warranty period
Pros
Speeds are good due to USB Type C Support included by the controller in the hard drive
All Aluminum enclosure gives decent protection
Cons
USB Type C is not fully utilized by the limitation of the drive being an HDD and not SSD
Over priced 4 TB and 5 TB variants
WD Black My Passport – Popular Budget External Hard drive
WD Black My Passport was the popular choice and the best seller's choice hard drive since ages.
It's look has been updated in the year 2016, and since then My Passport amazed the competition by consistently being top in the market.
The controller of the hard drive has been upgraded to better performances despite the radical look.
Features & Performance
Having a larger footprint helped the drive dissipate more heat than usual and this made the drive run longer with speed throttling
In our tests the drive ran at a speed of 125 MB/s Read, 113 MB/s Write which is better when compared to previous readings
Read speed has increased quite a bit along with 4K IOPS. Thanks to the new upgraded controller
USB 3.0 Port and 3 Year manufacturer warranty
Pros
Speeds have been improved due to large size, new controller upgrade in 2016
Can get 4 TB drive at 2X the price of 1 TB
Cons
Newer model has larger footprint to carry
Scratches and Smudges prone. Sharp Edges might harm a bit
WD Elements – Cheapest 1 TB External Hard Drive
Final one in the list of Best External Hard Drives is the WD Elements which is the Cheapest 1 TB External Hard Drive right now
Which is fast enough to make the best 10 list. When it got introduced along with its competitors in 2013.
WD Elements was the fastest contender in sequential read and sequential write
Features & Performance
Having larger form factor helped a bit. So that it can dissipate heat well and 5400 RPM HDD can perform well
As for the benchmarks go the External Hard drives read and write speeds are around 116 MB/s
The larger size doesn't make this portable drive weigh more. Weighing at 0.3 pounds the drive is known for its trust of not being corrupted
Western Digital offers a limited 2 Year warranty on the drive
Pros
Less Weight and somewhat large than usual drives which help in cooling
Most Trusted Drive yet at cheapest pricing
Cons
The controller hasn't been upgraded since 2013
No 256-Bit AES Hardware Encryption
Buyer's Guide – Best External Hard Drives
This buyer's guide is intended for all types of customers with all type of needs. Whether you're here to pick high storage volumes at lower price
Or you're here to pick the fastest and price is not a factor which you're bothered. Anyhow, I would strongly recommend everyone going through this guide
Top Rated External Hard Drives – People's Choice